Back in 1913, members of Arncliffe Presbyterian Church (who were mostly Scotsmen or of Scottish descent) decided to form a Cricket and Baseball team to play in the local competition. Although the Baseball team was short lived, the Cricket team remained popular. With the introduction of Rugby League, the local sporting organisation experienced a great deal of growth and a suitable name was sought for this sporting group. The most obvious was Arncliffe Scots.
The sporting teams of Arncliffe Scots upheld a fine reputation for sportsmanship and conduct, with players sharing a sense of mateship and passion on the field.
In 1926 some of the young cricketers formed a "B Grade" (Under 21) Rugby League Team in the St George Junior Competition. At this stage there were only "A", "B" and "C" Grade competitions. The Arncliffe Scots club colours were Black and Gold.
In 1927 Scots fielded 3 teams – a "B" and two "C" Grades.
In 1928 they fielded "A", "B" and "C" Grade teams. In these early years there were no finals – first past the post became Premiers. Both the "A" and "C" Grades won the competition this year. The "C" Grade had the honour of becoming the first Scots team to win a Premiership, as their competition finished two weeks before that of the "A" Grade.
Practically all of the Senior Grade Players in the early years came from the local area, as you had to live within the defined district area to be allowed to play.
By 1930, six of those first Scots players were in the St George First Grade team.
As further lower grades ("D" and "E") were added to the St George Competition, the number of Scots teams increased. They always fielded teams, winning numerous competitions in all grades, particularly "A" and "B".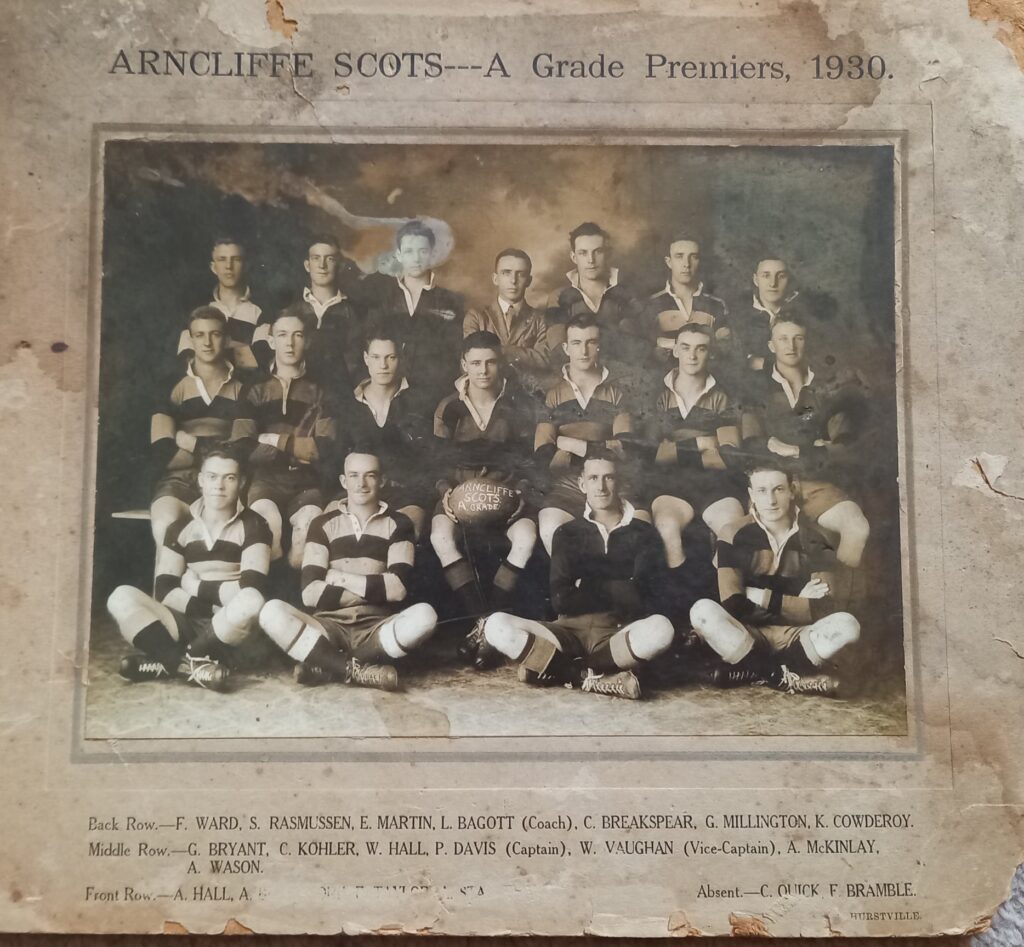 Over the years, Scots continued to supply Grade players to St George, and also two First Grade Referees – Arthur Davis and Aub Oxford. Arthur Davis (Percy's brother) went on to become President of the NSW Referees and Aub Oxford will always be remembered for abandoning a match between NSW and England at the Sydney Cricket Ground in 1954.
Scots also gave the St George Club two of its top Officials in Alex Mackie (who went on to become Vice President of the Australian Rugby League) and Glyn Price (St George's longest serving Treasurer – known as "Mr St George").
During the pre-war years, Scots shared the legendary Earl Park with the St George Senior Club.
The Arncliffe Scots Rugby League team, formed in 1926, continued until the start of the Second World War, when, like all clubs, they battled to field teams due to the loss of senior players and officials called up for war duties with most serving overseas.